DISCOVER
Your Tacoma Corporate Rental
Home Away From Home
You'll find our rates at Tacoma Corporate Rental are fantastic compared to local hotels with rates well over $200 per night. We offer our guests a private home, including one & two-bedroom units with full kitchens, and our budget studio or one-bed units with kitchenette. You'll experience quiet and relaxing comfort with all the privacy of your own home! Our rentals are all pet-allergy free. Bring your paddleboard or kayak, we accommodate both with a secure, fenced-in backyard or garage. Minimum rental stays are 30 days.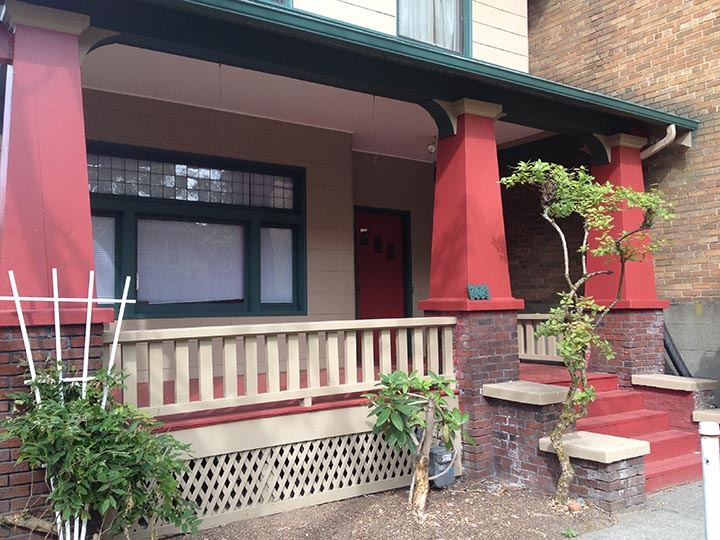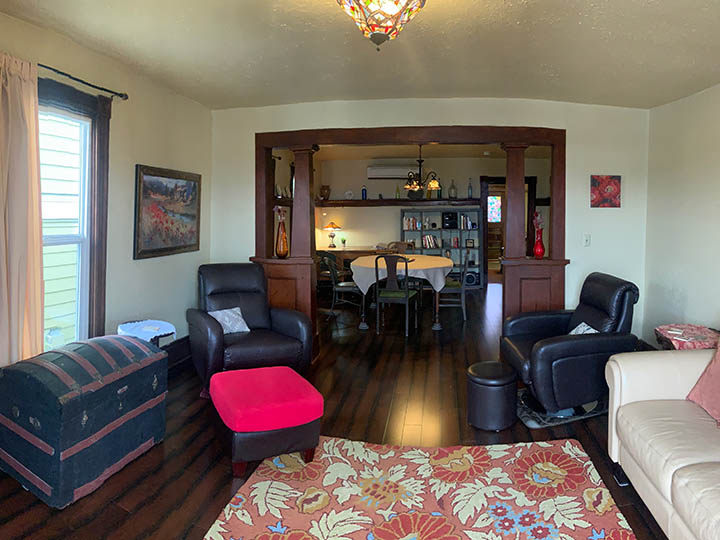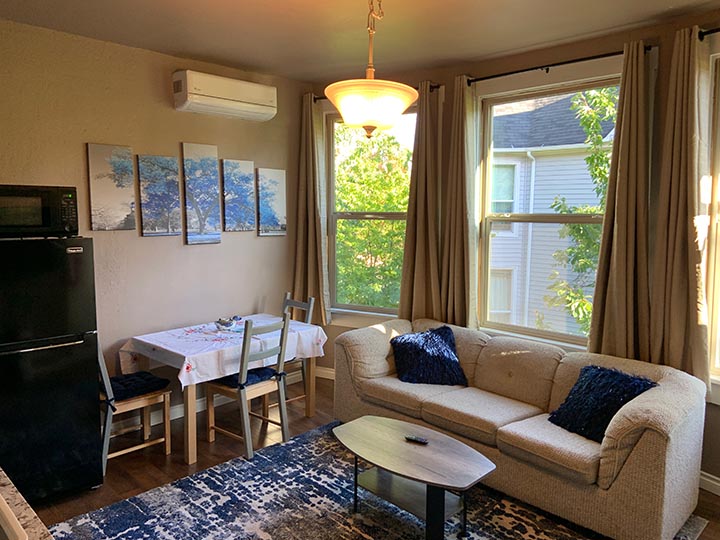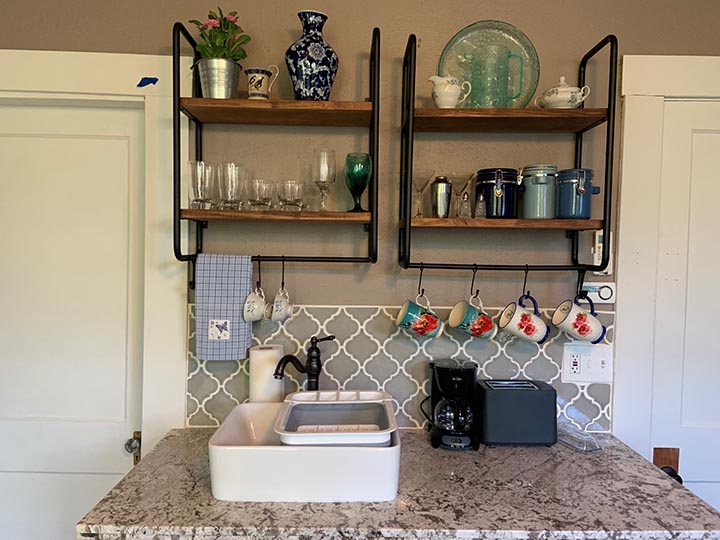 Tacoma Corporate Rental is a wonderful place to visit, work, and play
If you're visiting Washington hoping for a little fun when not working or doing business, we have unlimited activities to offer. From summer festivals to hiking in old-growth forests, the Pacific Northwest and Puget Sound area offer never-ending adventure. We are within miles of every sport and activity imaginable. From sailing in Puget Sound to snowshoeing on Mount Rainier, we have it all. You'll also enjoy the proximity to cities such as Seattle just minutes north or the laid-back Portland just two hours south.
With all the comforts of home and all the things to do, you'll never get bored!
FULLY FURNISHED
One & Two Bedroom Rental Homes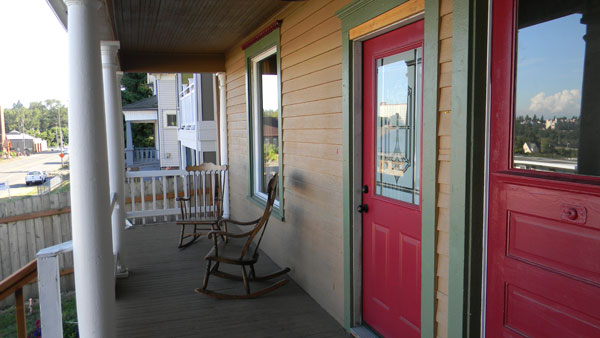 TCR 1 – Tacoma Corporate Rental 1
Two bedroom unit with full kitchen including dishwasher.
Two queen beds
Private bathroom
Streaming TV & WiFi
Private gated parking for one vehicle
Beautiful mountain & city views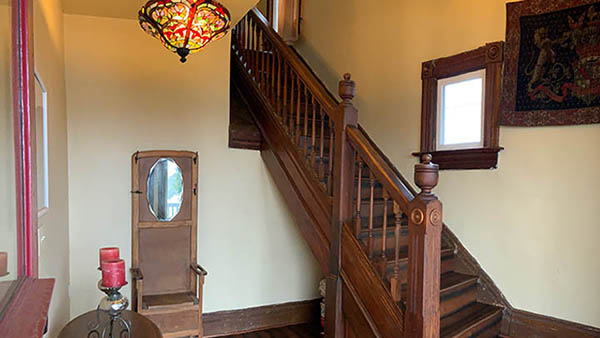 TCR 2 – Tacoma Corporate Rental 2
Two bedroom unit with full kitchen including dishwasher.
Two queen beds
Private bathroom
Streaming TV & WiFi
Private gated parking for one vehicle
Beautiful mountain & city views
HOME COMFORTS
Amenities to Make Your Stay Enjoyable
Full Kitchens
Refrigerator, microwave, coffeemaker, fully stocked with cooking utensils, pots & pans.
WiFi, Streaming TV & DVD
Access your Netflix, Hulu, and other streaming service accounts on our Smart TVs.
Rest & Relax
Enjoy the deck and balcony, rocking chairs on the deck or front porch, and scenic views.
Bedroom Comforts
Comfortable bedding, linens and bath towels are provided for your enjoyment.
Washer & Dryer
All units include convenient on-site washer and dryer.
Secure Parking
Most units offer secure parking. Check with the host to verify availability.
RECENTLY COMPLETED
Budget Units at MLK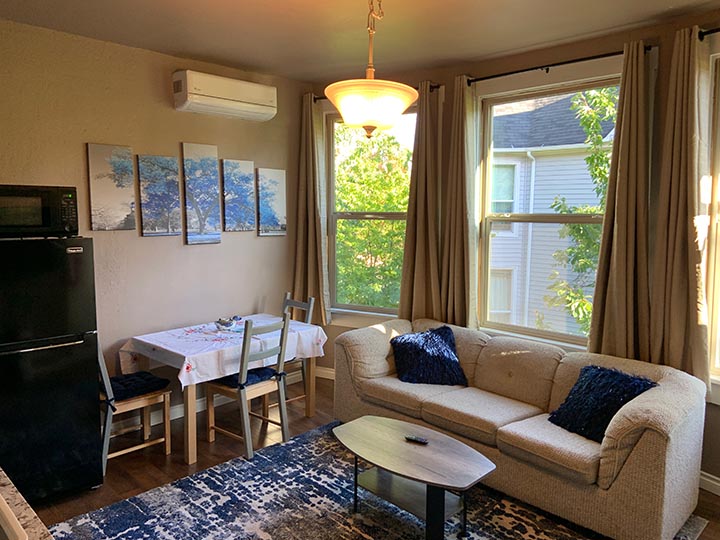 MLK – Martin Luther King Jr Apt B
One bedroom unit with kitchenette.
This space has a nice size living area with kitchenette, dining and lounging areas.
The kitchenette has an apartment size fridge, microwave, countertop oven, burner cooktop and sink with drainboard. Dishes are also provided.
The lounge area has a couch and wall mounted 40″ streaming TV.
The separate bedroom boasts an original cabinet to the space built to fit the slanted ceiling; this provides space for clothing and personal items in addition to the closet. Your private bathroom has a tiled and glassed-in shower.
Linens, high-speed wifi, and all utilities are included.
Secure parking in garage for one.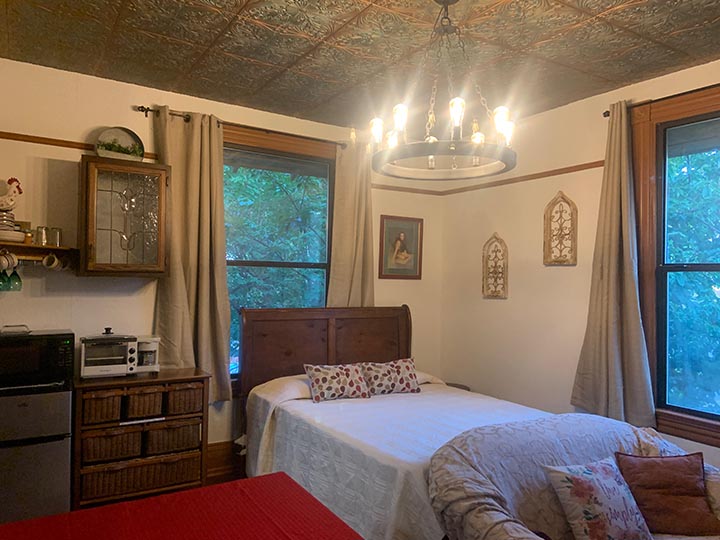 MLK – Martin Luther King Jr  Studio C
Nicely appointed with private bath and kitchenette.
Original trim from 1900, copper tile ceiling, accent door, and furnishings make this space warm and inviting.
Seating area with a 40″ streaming TV that will also mirror your phone or watch local channels.
Kitchenette Features a mini-fridge, microwave and a breakfast center with toaster oven, griddle, and coffee maker.
Dishes and microwave cooking dishes, as well as linens and utilities are included.
Two walk-in closets, glassed-in shower and a pub table with two stools.
This little studio packs a big punch with the amenities you need.
Street or alley parking.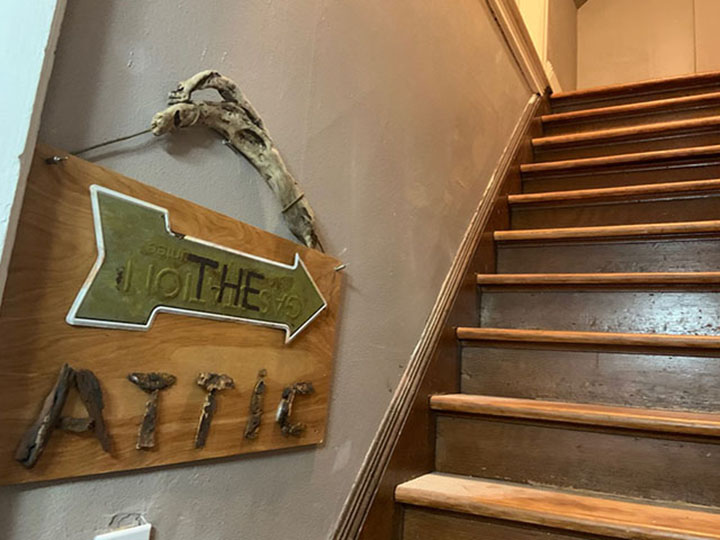 MLK – Martin Luther King Jr The Attic
This budget unit has just what you need a cozy space to lay your head and a spot to set up your gaming system.
The unit sports a twin day bed, table, and chair, mini-fridge with freezer, microwave, breakfast center with toaster oven, grill and coffee maker.
Closet area, wardrobe/closet area, private shower and bathroom area.
The stairs are a steeper then average and there is low head clearance at stair top. This property is not suitable for people taller than 5'9″ or 5'10", large people or people with balance issues.
Street or alley parking.
INFORMATION
Reservations & Booking
Deposits & Reservations
Minimum stay is 30 days. Cleaning fees are $100-200. Security deposits are $500-900. Until confirmed, rates are subject to change without notice. Discounts may be available for rentals longer than four months. For availability and to request a reservation, visit our calendar and booking page.
Check-in/House Rules
Check in time is after 3:00 pm.  Contact host to set up greeted or remote check in. There is a no smoking and no pet policy for all units. A complete list of rules can be found below.
Cancellation Policy
The booking/security deposit is to hold your booking. Should you cancel your booking with less than 30 days notice there is $200 cancellation fee. Any advance rental charges will be refunded. Any cleaning fees are fully refundable on cancellation. Dates may be adjusted based on availability. Please feel free to call with questions.
Neighborhood Map
Tacoma Corporate Rental homes are conveniently located close to everything the area has to offer.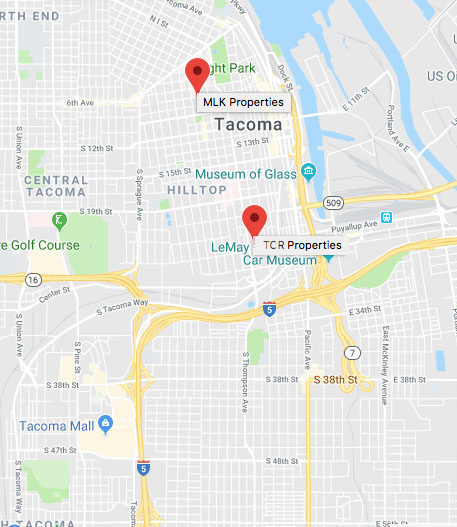 Phone (253) 260-4032
We may be screening for robocalls, please leave a message.
Business Address
2504 Tacoma Avenue
Tacoma, WA 98402